"Nature's Sleep products are designed with the highest concerns for health, well-being, hygiene and lifestyle."

"Nature's Sleep is mindful of the environment. We are committed to a sustainable, responsible and unselfish environmental philosophy."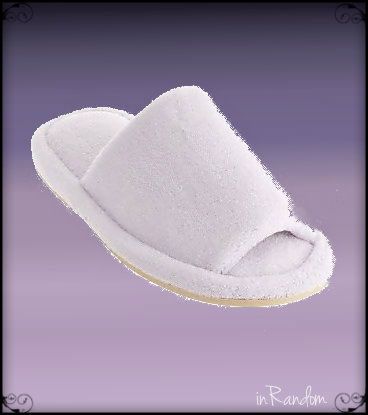 Take a walk in the clouds and slip your feet into these open-toe terry slippers. The visco-elastic memory foam in the bottom of the sole contours and cradles your foot for luxurious comfort and support with each and every step. The warm, soft terry fabric ensures your feet stay cozy all year round.
My feet feel cold all the time. It's just one of the many perks of my MS. The messages from my brain to my feet get scrambled. So when my brain says, "It is 106° out there and you are HOT, Dawgs!" My feet hear "D,D,Dudes, it's like -30° out there, trust me you are p,p,piggy-cicles!" I hate socks or at least, wearing them without shoes; that's why love slippers. Especially, cozy, soft, big-fluffy-pillows-wrapped-around-your-feet slippers.
I've never had a pair of memory foam slippers before, so I jumped (or chair hopped) at the chance to review these Open Toe Terry Slippers w/Memory Foam by Nature's Sleep. I've never actually put my foot in a cloud, though I have wanted to on many, many occasions. But if I were to imagine the comparisons here, between my Nature's Sleep slippers and a cloud, these are the images it brings to mind.
Cloud: soft, dreamy, wispy and ethereal, yet cool. Even though it would wrap and envelope my foot in a luscious kind of way, I just do not believe the warmness I seek could be found there.
My slippers: while being extravagantly plush, oh-so cozy and warm, luxuriously soft, cotton-ball puffy, high quality and made to last and also wrapping my feet, though this time with the heating quality I've been searching for. Like a hug given by an oldest and dearest friend, that fills your feet with a glowing warmth from the inside out.
The visco-elastic memory foam in the bottom of the sole contours to your foot for comfort and support, so even if you wear them all day, as I do, your feet never get tired or achy. Plus, the open toe allows for air circulation, so my feet never get sweaty.
They also come in sizes from small to x-tra large, so you don't have to worry if you don't have small feet like me. They go all the way up to 12 for women!
I know, trust me I know, I have some serious issues when it comes to my feet. I am trying to work them out. Hubby keeps suggesting a therapist, but I don't think it's come to that… yet. Until then, I think I'll just carry on pretending I'm walking on clouds.

Purchase: You can buy Nature's Sleep Open Toe Terry Slippers with Memory Foam online for $25.
I received samples for the purpose of reviewing. Opinions are my own and/or my families and are not influenced by any form of compensation.