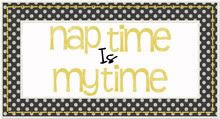 I'm participating in this group project wherein we comment about something we like about a fellow Bloggers Blog, I was pretty lucky getting Nap Time is My Time as I already have been following for quite a long time. The one regular thing I love about this blog is The Mommy Mindset, a regular post where a few moms get together from various blogs and comment on a topic. Just a few days ago they were covering Toddler Discipline, which was something that I am obviously in need of as I have a 3 year old who likes to destroy things at the moment. They were discussing how each of them handle discipline when it comes to their toddlers so I thought I would put in my own little 2 cents on how we handle Judah.
Judah gets very fixated on things, he's very determined and stubborn and certainly gets that from his Father as I am the nice sweet flexible one (::cough::). There is no way to do the "distraction" technique that most doctors had informed us of. You know where they tell you that your toddler only has an attention span of two minutes and distract them for that long and they'll forget? This didn't work for us. There are things he still remembers from being 1, games he made up that we were so thankful to stop doing and he expects us to remember exactly how to play. So instead of trying these distraction techniques we would find other ways to do things, such as: Don't Throw Mommies books, but you can Stack them. Jumping on the Bed is a No-No, but we can pile the whole thing up with all your toys! The Either / Or technique and it's worked out really great.
One other thing we've done that has saved us a million hours of trouble has been to do First and Then. First we do this and THEN we do this. So if we are at the store we would say, First we'll go see the trucks and THEN it's time for Mommy & Daddy shopping. Or, First we are going to go Potty and THEN we can go watch Chuck the Dumptruck for the 50th time. This has been a life-savor. He picked up really fast on it and now we do a lot of First and Then's, it's even easier for him to tell us what he'd like to do, to go to naptime, bedtime, potty time, bath time… everything has been less stressful with this. Since Judah won't forget something and you couldn't make him budge without going through a fit, he's very happy to tell you that he will FIRST play with his racecar a couple times and THEN he will go to the potty.
Other topics they've discussed are:
Trying for Another Child
Healthy Snacks
Traveling with Toddlers
Where Baby Should Sleep
It's a great blog, certainly one you should certainly consider subscribing to, there's also Recipes, Resources and Shops! But do check out The Mommy Mindset, it's really helpful and it's always nice to see other people's techniques in case one of yours doesn't work out and/or your toddler has finally caught on to our tricks!